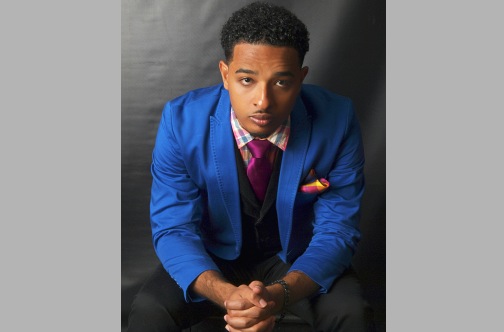 By Lovanda Brown
      WPRV.NET Gospel Music

DJ Nicholas, Reggae Gospel artist. Photo courtesy of the Jamaican Observer.
In Jamaica, singing to Gospel music is the same sacred practice of worship many of us consider it to be, however, the church music that blares through the streets of Jamaica has come to mean something more to the natives of the island and to those who were raised in the culture. To understand Reggae Gospel, one must examine just how reggae music and gospel music have forged together to become this contemporary sub-genre. Before doing so, there must be a fundamental breakdown of Reggae's introduction and evolution over time as a means for one to firmly grasp the idea of Reggae Gospel.
Reggae:
Reggae has come a long way just the same, though its introduction to the world doesn't date back as far as the emergence of Gospel. Reggae is typically identified with the Jamaican culture, but it stems from a Caribbean genre of music which pre-dates the reggae established today. According to the International Encyclopedia of Social Sciences: "Reggae is a complex Afro-Jamaican twentieth-century musical phenomenon that has profoundly influenced global popular musical culture. As a genre of modern black cultural production, reggae music dates from the 1970s, when it emerged from the musical confluence of ska and rock steady, two forms born in early postcolonial Jamaica." Before going any further, it is imperative that one understands the meaning behind the concept of "postcolonial Jamaica." Jamaica was under British rule until August 6, 1962. As explained in volume 1 of "The History of Jamaica or General Survey of the Ancient and Modern State of That Island with Reflections on is Situation, Settlements, Inhabitants, Climate...[etc]" After Christopher Columbus' "indigenous" discoveries in the late 1400s, Jamaica transitioned from being under Spanish rule to British rule over an extensive period of centuries. However, it wasn't until the aforementioned date that Jamaica was able to establish its own customs, its own ideas of art and ultimately, its own idea and creation of music:
"As a cultural practice in Jamaican postcolonial society, reggae was closely tied to subaltern representations of slavery, colonialism, history, and Africa. As a consequence, in many instances reggae became a counter-hegemonic practice critiquing the formal Jamaican Creole nationalist project of political independence. Ska was a 1960s musical synthesis that ruptured the Jamaican musical form known as mento, which emerged from the encounter between European colonialism, racial plantation slavery, and the slave African population. Mento adapted and morphed the harmonic structures, instrumentation, and melodies of European musical styles into indigenous sounds. It added other instruments, in particular rhumba scrapers and drums, and wove melodic structures within the sound of the rhumba scraper to produce a unique rhythm to which many rural Jamaicans enjoyed dancing." (Encyclopedia, 1)
While Jamaican citizens were working hard to assert the nations independence, progressive minds were finding ways to break free from the fast-paced rhythms of Ska music and assert an island-wide genre which included beliefs, ideas for change, and hope toward the new independent future. Of course, it is impossible to consider Reggae without its associated pioneers. Yes, this definitely includes the musical influence of the late, great Bob Marley.
Bob Marley and the Emergence of Spirituality in Reggae
Bob Marley is quite famously known for being an avid member of the Rastafarian movement. The "Rasta" belief system is based on the spiritual and Biblical based affirmations that becomes evident throughout Marley's peace-making lyrics. In a former discussion of Marley's influence included within an original assessment titled, "Classic Reggae—Marley Versus Kartel" I extrapolate on Marley's impact during a highly contentious political era,
"With the help of his band mates, Bob Marley and the Wailers debuted just in time to save the emotional state of the nation they called home. His music inspired peace and evoked spirituality, all while boldly asserting a stance of opposition toward unfair politics and the injustice that was too prevalent to ignore. For some, he was "God sent," the messenger who was given the responsibility to remind people that all would be well. For most, he became the ideal representation of the voices left scattered. The blended hopes and grievous thoughts of Jamaicans at that time seem to be heard through the lyrics that Marley had cultivated himself. His music, which conveyed the importance of peace (anti-war), spirituality, gaining knowledge of political affairs and understanding oneself, made him and the name he carried one of the most recognized and respected names of the 20th century. His ability to take reggae and transmit the genre into mainstream music is ultimately what lives on, and although his revelations on government affairs didn't always attract supporters in the political office, the views shred through his music irrefutably shaped the collective memory of politics and warfare of that generation." (Lovanda Brown, 3)
Throughout this discussion, I examined just how Marley's music stood evergreen and timeless throughout the years. At the time of Marley's emergence, there was an island-wide outrage toward the condition of Jamaica, and more specifically, former Prime Minister Michael Manley's seat in office. This caused rebellion and division amongst Jamaican natives. Marley's music addressed politics, the power of spiritual faith and the power of love and brotherhood throughout his lyrics. This is evident in his 1973 released song "Get up, Stand Up". In this song, one should find evidence of Marley's discussion of both politics and religion:
Get up, stand up: stand up for your rights!
Get up, stand up: stand up for your rights!
Get up, stand up: stand up for your rights!
Get up, stand up: don't give up the fight!
Preacherman, don't tell me, heaven is under the earth.
I know you don't know, what life is really worth.
It's not all that glitters is gold, all the story has never been told.
So now you see the light, eh! Stand up for your rights!
  Marley was both controversial and highly applauded for the assertions made throughout his music. Despite his untimely death, Marley's music still resonates because of its spiritual power and political authority. Thus began "Reggae conscious music" or music that evokes conscious awareness and provokes thought in areas including both religion and politics as well as theories on life in general. Overtime, more artists emerged with similar ideas. Artists like Jimmy Cliff (The Harder They Come) and Gregory Isaacs introduced their theories just the same, but as decades passed, Reggae continued to evolve and Dancehall reggae was introduced to the world.

   Throughout the U.S., the rise of Gospel blues and Hard Gospel was making its way. While both sub-genres emerged some time apart, Jamaican reggae still took some time to get on board with the collaboration and world-wide introduction of Hard Gospel. In fact, it wasn't until the late 1970s, when Dancehall Reggae (or reggae designed for the purposes of clubbing/dancing) that Hard Gospel was able to make way. Horace Boyer defined Hard Gospel in his book, "The Golden age of Gospel". Hard Gospel is ""characterized by straining the voice during periods of spiritual ecstasy for spiritual and dramatic expression, singing at the extremes of range, delivering perpetual text, in some cases repeating words or syllables or developing the text through the employment of wandering couplets or quatrains or stock interjections…" (Boyer, 117). While hard gospel was practiced throughout Jamaican churches, recorded and mass produced evidence of this practice doesn't truly emerge until the early 2000s. Before then, Psalm books like "Pentecostal Praises" were used and practiced as hard gospel for generations. Reggae Gospel Artists like Marvia Providence and Judith Gayle came onto the scene to bring Jamaican sound and adaptation to gospel songs we know by memory today. In Gayle's song, "Jesus a mi daddy-o" she practices the characterizations of Hard Gospel while delivering Biblical-referenced lyrics over Afro-Caribbean rhythms and beats:

"I will not SUFFER
I will not beg no bread!
God is my PROVIDER
I will not beg no bread
Him ah mi daddy Ohhhhhh!
Jesus ah mi daddy ohhhhhhhh!"
This song was released in 2005, a time in which the traditions of Gospel were being changed to suit the needs of the modern Christian population. Just two years before this song's release, Dancehall Reggae artist Elephant Man had begun merging Dancehall Reggae with Gospel songs heard throughout the church. His rendition of "Hear my Cry, Oh Lord" titled "Bun Bad Mind" stands on the same premise of spirituality. While Reggae Gospel artist Marvia Providence's version of the original song successfully merges the two sub-genres, Elephant Man's version became so popular, that his song was played throughout Jamaican clubs as well as churches! Both songs are played along the same instruments and same beat, but the lyrics differ in terms of spiritual authority. I'll compare both lyrics below (including translations when necessary) to assess the difference between the two spiritual songs.
We a bun badmind, but we hypocrites can stay
(Yuh too badmind, yuh too badmind, yuh too badmind)
So we draw our line (Christian dip) and tell Satan
scubaay
(Yuh too badmind, yuh too badmind, yuh too badmind)
Kiss di Cross and touch di sky (Christian dip, revival dip)
All badmind ting must stop, we a bun out badmind
(Yuh too badmind, yuh too badmind, yuh too badmind)
We a bun out badmind (Yuh too badmind, yuh too badmind)
A wedi wedi wedi wedi wedi wedi wedi
(Translation)
We are burning out bad mind, but us hypocrites can stay (where
we are)
(you're too bad mind, repeat 3x)
So we draw our line and tell Satan to go away
(You're too bad mind, repeat 3x)
Kiss the cross and touch the sky
All bad mindedness must stop, we are burning out bad mind
We are burning bad mind.
Rebuke dem (Alright) rebuke dem (weh yuh seh)
Dem nuh like we and we nuh like dem (alright)
Rebuke dem (Alright) rebuke dem (everybody)
Dem nuh like we and we nuh like dem
Trample dem )Alright) trample dem (trample dem)
We nuh care if a devil send dem (Weh yuh seh?)
Trample dem (Alright) trample dem
We nuh care if a devil send dem
Everybody God Time (God time) God Time
Mi waan see everybody hold di God Line
God Time, God Time, If yuh a Satan please don't join (don't join)
Praise di Lord (Praise di Lord) praise di Lord (praise di Lord)
Praise di man although time hard (praise di Lord)
Praise di Lord, praise di Lord
Nuh devil worship a caan come inna we heart.
(Translation)
Rebuke them, rebuke them
They don't like us and we don't like them (repeat lines 2x)
Trample them, trample them
We don't care if the devil sent them (repeat lines 2x)
Everybody [it's] God's time
I want to see everyone join the God line
God time, God time, if you're with Satan please don't join
Praise the Lord (repeat 3x) praise the Man although times are hard
Praise the Lord (repeat 3x)
No devil worship can come in our hearts.
Throughout this song, Elephant Man sheds light on the Jamaican concept of "bad mind" or those who are consumed with ill-thoughts and intentions against us. From the beginning, he makes it clear that those who believe in God should be rebuking the evil spirits associated with bad mind. He uses a common Jamaican phrase to assert his position in the matter: "we hypocrites can stay". In Jamaica, phrases like "yuh cyaa tan deh" or "yuh cyaa stay" simply means you're telling someone, "you can continue in your own business or beliefs, you are hereby dismissed from my own thoughts of the matter at hand." By establishing that those who aren't regular church-goers like himself but still sing about God as hypocrites, He's already appealing to the mass by dismissing his ideas projected in the song by those who are too "Holy" to listen. As he continues to ward off evil spirits and rebuke devil-worshipping, one should find that this song's intent is the same as any other Gospel song—praise God and resist the devil. In Marvia Providence's Song "Hear my Cry, Oh Lord" she uses Biblical references (Psalm 61) as a means of pleading and praising to God.
Hear my cry, Oh Lord,
Attend unto my prayer.
From the end of the earth,
Will I cry out to Thee.
When my heart is overwhelmed,
Lead me to the Rock,
That is higher than I...
That is higher than I...
For Thou hast been,
A shelter for me.
And a strong tower,
From the enemy.
When my heart is overwhelmed,
Lead me to the Rock,
That is higher than I...
That is higher than I...
Providence employs the same belief system while using Biblical context to support her praise. In both songs, Christian beliefs are evident, Hard Gospel is practiced, and dance-provoking rhythms are used.
Reggae Gospel Today
Today, Reggae Gospel continues to grow as a genre as the limitations of past traditions are constantly being both pushed and tested. Today, secular Dancehall artists like Vybz Kartel and Mavado as well as Conscious artists like Richie Spice and Jah Cure are testing the waters in terms of combining reggae and spiritual assertions just as modern day Gospel Rap artists tend to do. Today, there are artists like DJ Nicholas and Papa San who are determined to demonstrate and establish the merging of the two genres as its own class to reckon with. DJ Nicholas released his album School of Volume in 2011. Throughout his volume, he uses immense Biblical knowledge to create Gospel-worthy lyrics over up-beat rhythms. His songs "Cut it Off" and "Divine Mathematics" explore the Bible from beginning to end while leaving behind authoritative calls-to-action for both Christians and the unsaved:
Cut it Off
` Shout!!!
Out of our Belly shall flow Rivers,
Good to get but blessed are the givers
A what mi basically a tell you say,
Name a God mek demon shivers
So whether family or a visitors,
The God make a Daniel always delivers
So anything a try hold you from God just draw fiyyuh spiritual scissor and do what?
Cut, Cut, Cut, Cut, Cut, Cut it Off,
anything a try distract you, you fi(to) Cut it Off, Cut, Cut, Cut, Cut,Cut a could a internet or cable you fi(to) hold it an shut it Off (x2)
Cut, Cut, Cut, Cut, Cut, Cut it off,
anything a try distract you, you fi(to) Cut it Off,
Cut, Cut, Cut, Cut, Cut, Cut if off
look how long God a tell you put it way so stop from put him off
In Cut it Off, Nicholas is working to impart wisdom on the dangers of being distracted from God, or the over-indulgence/consumption of secular devices. In his song Divine Mathematics, he encourages the "saved and sanctified" to celebrate the gift of salvation.
A little bad mind plus little red eye,
Little thieving plus a little tell lie,
Little sexual sin and obeah **(voodoo) working
And by time you look yuh turn a little hell guy
Sin add so much until sin multiply
And a add to the sky as the time went by
Sin plus sin equals more sin, sin
Plus the blood a Jesus, well that equals to no sin
[Chorus]
If Jesus wash your sins away,
Let me see your hands up in the air,
If you know your saved and sanctified,
        Wave you hands and sayyy

[Divine Mathematics!]
Both songs are tunes one should find easy to dance to. However, if one were to listen to both songs completely, one should find that Nicholas is equipped with the knowledge needed to make his work sacred. He stands as just one representation to a modest but growing populace of the Reggae-Gospel sub-genre. Nonetheless, while the sub-genre is still growing, it's only a matter of time before it becomes established worldwide as it is to the Christian-dominated population of Jamaica.